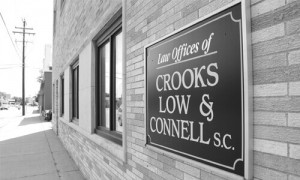 Crooks, Low & Connell, S.C.
Welcome to Crooks, Low & Connell, S.C., a team of dedicated lawyers serving the legal needs of Wausau and North Central Wisconsin for over 80 years. Our goal is to provide quality and effective representation while maintaining the professionalism our clients have come to expect from our firm.
Overview
Crooks, Low & Connell, S.C., is a general practice law firm established in 1931. The firm's offices have been located at 531 Washington Street in Wausau, Wisconsin, since 1953, in a building originally constructed for use as a hotel in 1881. The current members of the firm impart 180 years of representation, counseling and trial experience to their clients.
We provide a full range of legal services to individuals and business entities. Our long-standing policy has been to deliver effective, high-quality legal services in an efficient manner. We pride ourselves on using a no-nonsense approach to obtaining the best results possible for each of our clients.
Most of the matters we handle are in Marathon County and the surrounding counties of Lincoln, Langlade, Shawano, Portage, Wood, Clark and Taylor. However, our attorneys have represented clients in courts from Superior to Milwaukee, from LaCrosse to Crandon and in most counties in between. Our attorneys have also handled cases in the Wisconsin Court of Appeals, Wisconsin Supreme Court, Federal District Court and Federal Court of Appeals for the 7th Circuit.
We recognize that our attorneys have responsibilities to the bar and the community and encourage active participation in professional and civic organizations as well as charitable, political and educational organizations. All members of the firm are members of the State Bar of Wisconsin and the Marathon County Bar Association. Four members of the firm have served as president of the Marathon County Bar Association. Firm members are also active in the American Bar Association, the Wisconsin Association for Justice, and the Wisconsin Association of Criminal Defense Lawyers.
Over the years, we have provided legal counsel to financial institutions, municipalities, real estate, construction and engineering firms, and both small and large businesses in Central Wisconsin. But we are especially proud of our extensive trial practice in personal injury, family and criminal law and of our record of representing ordinary citizens on those occasions when they have had to face the often daunting complexities of the legal process.
Our Founder
The founder of the firm, Clayton J. Crooks, now deceased, served as a Wausau Police Judge and Marathon County District Attorney. Patrick L. Crooks served as Marathon County District Attorney, was a United States Magistrate for twelve years, and a member of the Wausau Board of Education for an equal amount of time. Members of the firm have served as directors and committee members of many civic, charitable and professional organizations.
Other former members of the firm include the late Judge Leo D. Crooks, who served as Marathon County Circuit Judge, and Anthony Earl, who served as Governor of the State of Wisconsin from 1983-1987.