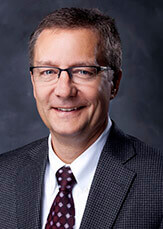 Kevin P. Crooks was born and raised in Wausau, Wisconsin. He is a 1981 graduate of the College of St. Thomas in St. Paul, Minnesota, with a double major in business administration and German, and is a 1984 graduate of Marquette University Law School.
Kevin is admitted to practice in all Wisconsin courts as well as the U.S. District Courts for the Eastern and Western Districts of Wisconsin and the U.S. Court of Appeals for the 7th Circuit. He is active in the community and has served as a member of the Boy Scouts of America Samoset Council Executive Board, Wisconsin Judicare Board of Directors, Wausau Historic Landmark Commission, Wausau River Edge Commission, Marathon County Highway Safety Commission, Marathon County Park Foundation Board and the Granite Peak Ski Patrol.
Kevin's primary area of practice is family law, including divorce, paternity, minor guardianship, and adoption cases. He has handled many complex child custody, child support, property division and maintenance cases in his career. He also has prior experience in the areas of criminal and traffic defense and general civil litigation.
In his spare time he enjoys kayaking on the Great Lakes and other local lakes and rivers, bicycling, downhill skiing, carpentry, woodworking and traveling.
Call Kevin today at (715) 842-2291.